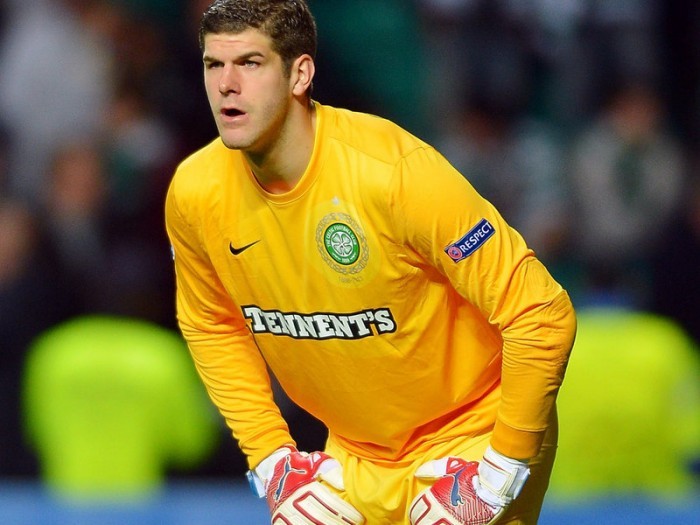 Fraser Forster – Wallsend Boys' Club's 5th England International player.
Fraser Forster born 17th March 1988 became Wallsend Boys' Club's 5th ex player to play full international football for England. Fraser was born in Hexham and attended the Royal Grammar School, Newcastle. He did not begin playing as a goal keeper until he was 13 years old. Before then he had played mainly Cricket or Rugby Union.
When Fraser first played for Wallsend Boys' Club, coaches thought he might be too small to play as a goal keeper, although he quickly established himself in the Wallsend team. He signed his first professional contract with Newcastle United signing for their Academy in 2005; in the six years he was at Newcastle he never made a first team appearance. He was loaned to Stockport County in 2008 and then went on a month's loan to Bristol Rovers in July 2009. Norwich City Manager Paul Lambert was keen to sign Fraser; he managed to sign him on loan for 2009/10 with Fraser being awarded the player of the month in November 2009, where he helped the club win the League One title and promotion to the Championship.
On 24th August 2010, he joined Celtic, originally on a season long loan from Newcastle. Celtic manager Neil Lennon described Forster by saying "He's a big boy, he's come highly recommended, his age is the only thing against him because he has all the qualities you look for". Forster stayed on loan at Celtic until June 2012 when he signed on a permanent deal for a fee in the region of 2 million pounds. He signed a 4 year deal. Fraser won 3 Scottish Premier League titles with Celtic and the Scottish League Cup. He holds the Scottish Premier League record of 1,256 minutes without conceding a goal.
In August 2014 Fraser was transferred to English Premier League team Southampton for a fee of around £10 million, with him signing a four year contract with the club. Forster was included in the full England Squad for the 2014 World Cup qualifiers against San Marino and Poland. He won his first cap for England on 15th November 2013 in a friendly match against Chile at Wembley. This appearance against Chile saw Forster become only the second person to ever play for England whilst a Celtic player. He won his second cap on 7th June 2014 in the match against Honduras. His third cap was won in the game against Scotland on 18th November 2014, played at Celtic Park Glasgow.