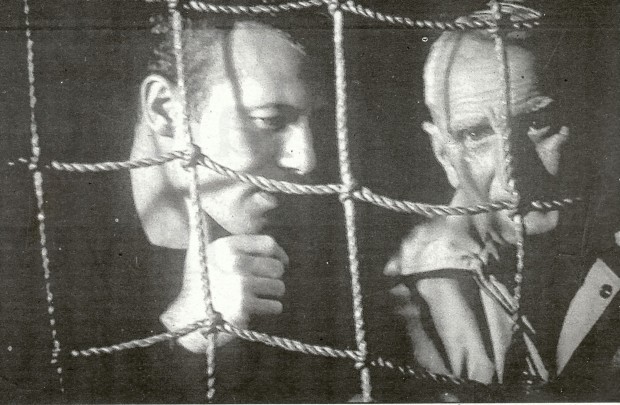 Alan Shearer's TV "memory lane" at the boys' club
Boys' club old boy wins honour at Boston University, USA
Wallsend Boys' Club was back in the limelight on 16th October 1998 as a "Memory lane" location for Alan Shearer's TV commercial for McDonald's. The Newcastle striker, filmed a scene at the boys' club with his mentor, the veteran football scout Jack Hixon, and states in the TV voice-over, "This is where I got my real education". Alan had turned up at seven in the morning with a vast film crew of 48, they'd been filming since first light at the shipyard, and they shot some early scenes before the supporting cast of 40 boys' club footballers turned up half an hour later. David Beardall, the club leader said, "It's always good to have positive publicity for Wallsend and the boys' club movement in general".
In 1998 another Wallsend Boys' Club Old Boy was honoured in his new home town of Boston, Massachusetts. In 1994, Nick Bone, one of the boys' club's footballers, had won a soccer scholarship to the USA. The young "Geordie" was honoured by being named amongst the top 20 athletes of the century produced by Boston University in America. Nick, a former pupil at St. Cuthbert's Grammar School in Newcastle, was ranked 10th in the list of Boston all-time greats. Nick was a soccer player whose achievements on the American University circuit smashed several records. His citation on his selection reads, "During the 50 year history of the Boston University men's soccer Nick Bone was the driving force on four of the best teams to play at Nickerson Field.
Nick in 1998 was the impetus of a terrier squad that won five straight America East titles and earned five straight N.C.A.A. Tournament appearances. During his four years Nick started all 84 games and became the second player ever to earn All-Conference, all four seasons. Nick is the Terriers all-time leading scorer with 61 goals. He was named America East Tournaments most outstanding player in 1996 and 1997 and was also named Soccer America's freshman of the Year in 1994 when he set Boston's single season record of 18 goals." He later played semi-pro football for Cape Cod where he was inevitably top scorer in his first season.