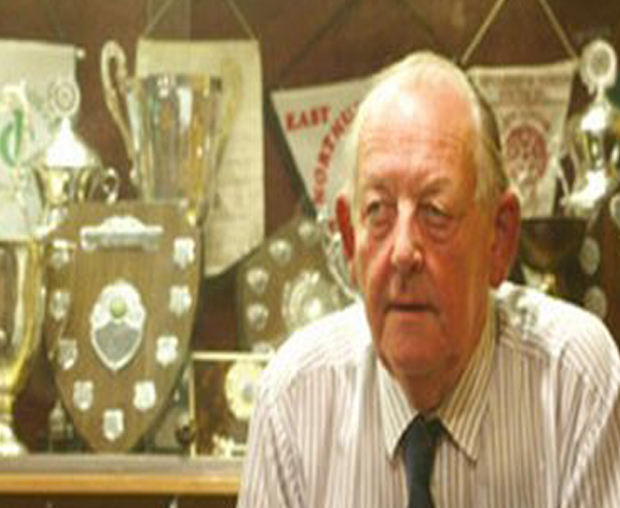 A very significant development in the Club was a change of leadership. Dave Beardall had been appointed back in December 1965, before the new building was even open for business, and he had led the club ever since, which was a remarkable achievement.By October 2003 however, at the age of 65, his retirement came, marked with a lavish celebration at a local hotel.
A host of football stars owe their glittering array of medals and trophies to unsung hero David Beardall and David now finally received his own reward for his services to soccer at Wallsend Boys Club. Premiership sponsors Barclaycard awarded him with their very first Free Kicks Champion Award in honour of his 37 years in grass roots football. Former Newcastle United and England legend Peter Beardsley, who started his career with the Boys' Club, presented the award in a ceremony at the club. Youth worker Dave had overseen the development of the club's football committee since 1965, helping to produce top players like Alan Shearer, Lee Clark, Steve Watson, Alan Thompson, Robbie Elliott and Michael Carrick.
"Our aim was to give kids the opportunity to fill their free time in a safe environment, when I'm sure otherwise some would have been involved in anti-social behaviour". David Beardall walked into Wallsend Boys' Club in 1965; it's real birth as a centre of football excellence. Yet the first match he arranged ended in a 21-0 defeat. "Oh, I remember it all right", David said, wincing. "We played St. Mary's Boys' Club at Cowgate roundabout and got slaughtered. I begged the ref to whistle up five minutes early". From embarrassment a great and mighty club emerged. Dave retired from a full time job after 38 years of hard work, loyalty and dedication. He was 65 years old on 7th October and 24 hours later he was honoured at a lavish dinner before many of his superstar protégés. He has been a father figure, a mentor to those destined for superstardom and those not, and his memories will be treasured well into his thoroughly deserved leisure time. Memories like the time Steve Watson, the youngest ever Newcastle United debutant, acted as a corner man at the Henry Cooper Golden Belt boxing competition which was held at the Boys' Club and was televised on Channel Four.
Recollections, too, of the numerous trips David made with Birmingham City boss Steve Bruce, one time captain of Manchester United's championship winners, picking him up from school to rush him to Boys' Club games. Steve was the best player never to be capped by England.