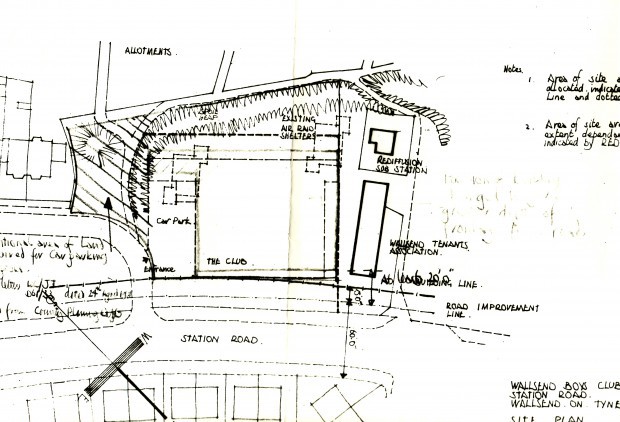 Grant for new Boys' Club approved
On 14th July 1964. Wallsend Boys' Club were pleased to hear from the Boys' Club Association that the necessary award of grant aid from the Ministry had now been obtained and that the construction of the new Club would now proceed and they were accordingly getting in touch with Wallsend Corporation to finalise the negotiations for the lease.
On 6thNovember Northumberland County Council approved agrantof £6,875, which was recommended by Northumberland Education Committee towards the cost of erecting premises for Wallsend Boys' Club.
On 11thJune 1965 Purdie, Lumsden & Co, Ltd won the contract to build the new Wallsend Boys' Club. The planned new building was 90 feet square by 30 feet high and was made up of three tiers, or decks as they became known, keeping up the shipbuilding connection. The lower deck was to be the main sports hall, ninety feet long and fifty feet wide with a wooden floor made of maple and white block brick walls leading to panelling above and opaque glass at ceiling level. Four feet above the sports floor would be the Middle deck which could be used for spectators.
The horse shoe shaped Upper deck provided space for billiards, table tennis, darts and a canteen. There would also be more room for spectators here. This area and the Middle deck would be surrounded by railings. The builders, Purdie Lumsden ofNewcastle, were engaged to erect the building and they decided it should be done in three stages, with the main shell being erected first.
The second phase would be the making of a Car Park leading up to the main entrance and a garden at the front, all surrounded by a low perimeter wall. The third phase was to consist of installing a suspended ceiling with recessed lighting to camouflage the steel work in the flat roof. It was anticipated that this work would take two years in total. By the time the building was completed, the final cost was about £38,590.
Much of the indoor work on the building was completed by workers from Swan Hunters, another gift from Sheriton C. Swan. This contributed a rather nautical feel to the building, with ships' stair cases being erected to link the 'decks'.