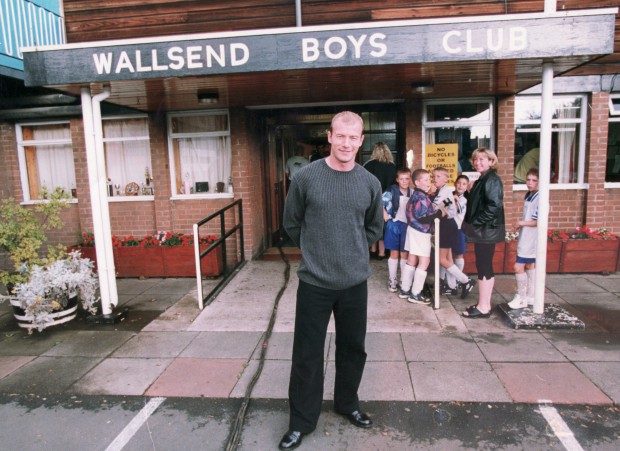 More financial problems for Club
More financial problems for Club: Old boy Alan Shearer reaches the top in professional football.
As financial pressure grew in the mid 1990s there were fears that the club would actually fold under the pressure. Sid Sharp, again interviewed by the media in 1996, put the problem out into the open. He said, "There is nowhere in this country with this club's record of producing professionals. In 30 years we have provided the game with millions of pounds of talent, yet the football clubs have not put single penny back, and it is crippling for us. …We need £7,000 a year just to survive and we have to raise every last penny ourselves."
This financial problem was particularly ironic at a time when, on 30th July 1996, Newcastle United paid out a record £15 million for their latest transfer, – ex-Wallsend Boys' Club player, Alan Shearer. What an incredible thought – an ex-Wallsend Boys' Club player was now the world's most expensive footballer!
Alan had been born in Gosforth and attended Gosforth High School, but began his footballing days with Wallsend Boys' Club. He had always maintained his career would not be complete without playing for Newcastle United. He had a trial with Newcastle in 1986 when he was just 16. Sadly for them, they stuck him in goal and didn't sign him. In 1987 he travelled to the south coast to join Southampton as a YTS trainee and his career really got started. In April 1988, Alan became the youngest player to score a hat trick on his first division debut, a record previously held by the legendary Jimmy Greaves. The man who discovered Alan, the then 75 year old football scout Jack Hixon, was quoted in the press at the time as saying that it was fabulous his protégé was finally coming home. Jack had spotted Alan's raw talent watching him play for Newcastle boys and supervised his move to Southampton.
The player and his mentor remained close friends from then on. In February 1992 Alan had made his England debut and in July 1992 he was transferred for £3.5m, to Blackburn. Four years on, his value had more than quadrupled. By the time Alan Shearer retired from playing in the summer of 2006, his reputation had grown beyond all imaginings back in 1986 when he had that first trial for Newcastle. He had not only captained his beloved Newcastle and England, he held the record for most goals scored by any single player in the Premiership, and had broken Jackie Milburn's record to become Newcastle United's most prolific ever goal scorer.