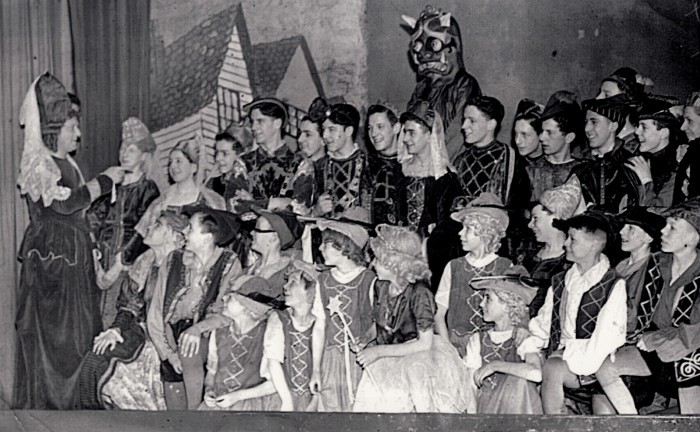 More Pantomimes at the Boys' Club
In 1942, Wallsend Boys Club performed their third Annual Pantomime "Babes InThe Wood" and again this was a sell out.
The Boys Club produced its fourth pantomime in 1943, "Robinson Crusoe", again in the club premises. They were well booked up for a week's run including a Saturday matinee, and hoped to raise £50 for club funds. Forty members of the clubs 250 were in the show, in which they played all the roles, principals and chorus, and some of them made remarkably "good" girls. The scenario was as in the past performances, by Sandy Laws, and the scenery was homemade and hand painted. The performance revealed a good deal of talent among the principal actors, particularly the comedy trio of Geoff Wilson, "Capt Skull", Jack Carruthers, "The mate", and Hughie Cockburn, "The boson". Tom Kirtley played the title role, Jack Scott was "Polly Perkins" (Principal "Girl"), Ernest Sandy"Laws was the "Dame".
In 1944 Wallsend Boys' Club held its fifth annual pantomime Jack and the Beanstalk. 1945 saw Wallsend Boys Club present its Sixth Annual Pantomime, "Red Riding Hood" Written, staged and produced by "Sandy". Six Spectacular Scenes, including ten hit songs and Costumes by W. Mutril, Ltd, Edinburgh. (Over 100 Costumes). Evening performances started at 7.15pm and admission prices were 2/6, 1/6, 1/0. The show ran for one week.
In 1946 the Seventh Annual Pantomime, "Puss in Boots" took place.This was again a sell out. Sandy would bring friends from the Palace Theatre in the Haymarket at Newcastle to help apply make-up to the cast of the pantomime. He would also take privileged members to the Palace Theatre to work backstage. Jack Carruthers and George Charlton were two of the lucky members to go.
Dress rehearsals the day before the WBC pantomime's first night were always chaotic, with Sandy pulling his hair out in frustration. But on opening night everything seemed to run smoothly. Each year Sandy thought of new ways of squeezing money from the audience, selling programmes, ice creams and so on.
In January 1949 Wallsend Boys Club Presented their 10th Annual Pantomime, "Dick Whittington& His Cat". Written, Staged and produced by "Sandy".