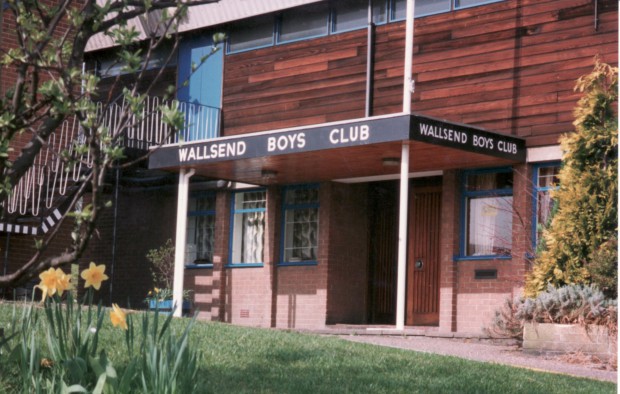 Opening of the new Wallsend Boys' Club
The official opening of the new Wallsend Boys' Club.
The opening ceremony of what was described as "the best club building in the North of England" took place on Friday 16th December 1966.
It had many links with the opening of the old wooden hut in 1939. Sheriton Clements Swan was still present as club president, – a remarkable sign of commitment – and he welcomed the Duke of Northumberland to carry out the official opening, reminding the 150 people present that it was the Duke's mother, when Duchess of Northumberland, who had carried out that first opening ceremony. In his speech, the Duke spoke warmly of the role Wallsend Boys' Club had played in the community of Wallsend since 1939. He paid particular tribute to Mr Swan, pointing out that, "Without him, the club could not have achieved so much."
The Duke of Northumberland was presented with a tie bearing the new emblem of Wallsend Boys' Club, a swan, referring of course to the close links to Swan Hunter's. This presentation was carried out by the chairman of the boys' committee, Alan Connolly. The Duke immediately put on his new tie, giving Alan his own tie in return. Mr Swan was also presented with a tie by Martin Adams, another member of the boys' committee.
Among the other dignitaries and guests who received ties were Lord Ridley, Vice Chairman of the NABC, Mr P. McGlyn, Chief Youth Officer of the Northumberland Education Committee, and Mr Vic Stevens, Secretary and Treasurer of the club's management committee as well as company secretary at Swan Hunter's. As part of the opening ceremony the Management Committee expressed their thanks to all the following in connection with the building of Wallsend Boys' Club. Purdie Lumsden & Co. Ltd, main contractors, Denings Ltd, Rutheroid Co. Ltd, Site Contractors Ltd, Swarland Brick Co. Ltd, Thermalite Young Ltd, Samuel Tyzack & Co. Ltd, G.W. Dixon Ltd, Durasic Ltd, Hewetsons, J.T.Leake & Co. Ltd, Rowell's (1924) Ltd, John Porter Ltd, N.F.Ramsey & Co. Ltd, Newcastle Glazing Co. Ltd, A & B Printers Ltd, Henry Hope & Son Ltd and General Concrete Products Ltd.
After the speeches and presentations there was a display of judo and football by club members.The club was now officially open for business and a pattern was set early on of involvement in a range of activities which certainly became dominated by football, but never to the exclusion of everything else.