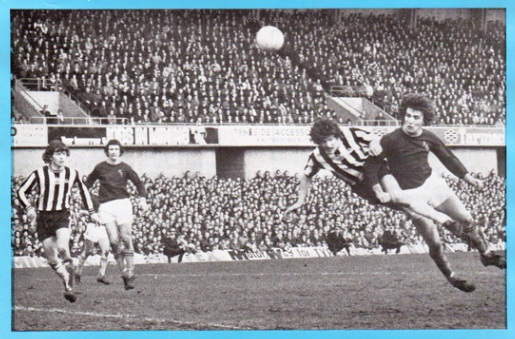 Early graduate of the Boys' Club; Ray Hankin.
One of the first really successful football 'graduates' of Wallsend Boys' Club of the post-1960s era was Ray Hankin who signed as an apprentice for Burnley at the age of 15 in 1970. After a career playing for several clubs, including Leeds United, Ray then became Football in the Community Manager for Newcastle United.
Ray Hankin, an early product of Wallsend Boys Club, signed as an apprentice for Burnley at the age of 15 in 1970. Joe Jordan and Ray Hankin were the twin strikers of Leeds United and the rest of football shuddered at the thought of Saturday afternoon, such was their physical presence. "Oh, we caused some damage", said Ray, with a relish, "Joe was awesome-frightening really. All we did was get the ball in the box and he'd wipe out three or four defenders.
In that season of 1977, I scored 21 league goals, a record, which stood at Leeds until Lee Chapman beat it. I just picked up the pieces from the chaos that big Joe caused. We had two wingers in Arthur Graham and Carl Harris, who could catch pigeons and all they did was get the ball in the box, then Joe and I took over."
Ray paraded in the old first division for a magnificent Burnley side at the tender age of 17 and won five England Under-23 caps. He England never won any full caps; this was largely due to the fact that throughout his career he was plagued by persistent knee trouble caused by his prodigious leaping off that particular leg.
By the time Ray left Burnley for Leeds United in 1976 for the princely sum of £200,000, he was already suffering. Two games into a new career, Ray had to submit to the hospital knife and was out of action for six long months. He was never rid of the problem for the rest of his career. On hard surfaces it was hopeless he could hardly run.
He played at the very highest level with his knee like a pincushion; He had so many cortisone injections, which were lethal. They got you through a game but after-effects were shocking. However, in his day if you were a big-name player they got you out there the best way they could.
Ray escaped the shipyards of the Tyne, which claimed his father, and brother because, being a man in a boy's body, he had both physique and the ability to inevitably take him into professional football. Ray was only 15 in 1970 when he signed as an apprentice for Burnley, 16 when he made his debut in the Second Division and 17 when he was a regular top-flight player.