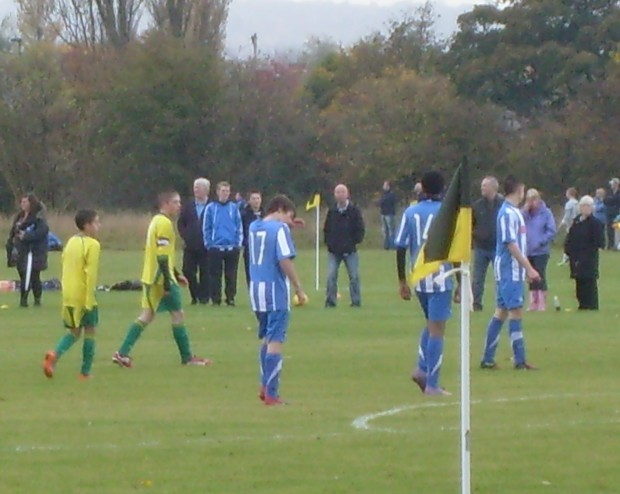 Rhyedt Avenue football pitches play their first games.
Early October 2007 had seen the arrival of Rok Builders and Hellens football pitch specialists on the Rhyedt Avenue site to start on the re-development, changing the site from three redundant golf holes into seven state of the art football pitches with top class changing rooms, and large car park.They were quick off the mark with trees and shrubs in the centre of the site ripped from the ground within ten days, and then huge earth moving equipment moved on site to remove the top surface, level the site and apply the top soil. This stage of the redevelopment was completed by early December and the contractors vacated the site, to allow it to settle until mid February 2008.
Rok builders arrived back on site the second week of February 2008 and started sinking piles to support the new changing rooms and then started work on the foundations. The final cost of the project was now one million two hundred and fifty thousand pounds, the total being made up from the Football Foundation donating one million pounds (the highest ever grant given by the Football Foundation), one hundred and forty thousand pounds donated by North Tyneside Council and one hundred thousand pounds raised by Wallsend Boys Club (a huge amount for a small volunteer organisation to raise). Hellens were unable to start the laying of the pitch drains until May because of the extremely wet spring, this now putting the completion of the pitches behind schedule. The Changing rooms at the Bigges Main site were completed in late October 2008, but the wettest summer in many years meant that the pitches could still not be finished off.
After years of preparation and two winters of terrible weather which slowed dramatically the time scale to get teams in action at the Bigges Main site, the football pitches and changing rooms were ready to use in October 2010. Rok builders and Hellens had at last finished this marathon development. With pitches finished to the highest standard, quality changing rooms and a 70 space car park, the teams were at last able to play on this state of the art complex. The first game took place on Saturday 30th October 2010 when the under 14's beat Blyth Town. Peter McRoberts scored the first ever goal on the new pitches. Sunday 31st saw the first full program of matches on the new site. What a magnificent day it was with hundreds of people watching the matches, played on superb pitches. After 45 years of being nomads Wallsend Boys' Club football teams had their own permanent home.