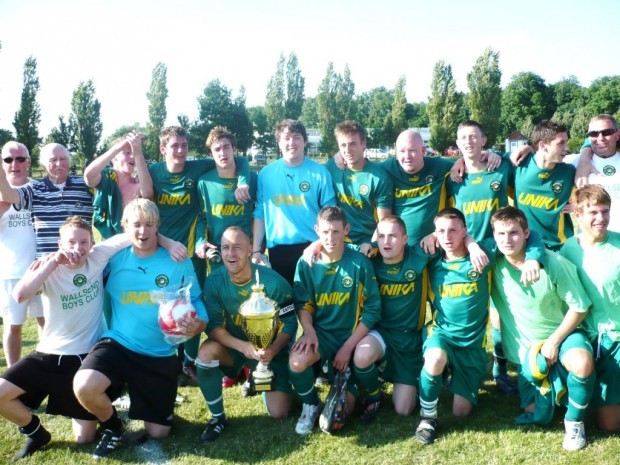 senior football team formed and trip to Rogatz
Wallsend Boys' Club senior football team formed and trip to Rogatz in 2008.
There had not been a senior team in the club for over half a century but in 2007 Wallsend "Old Boys" were formed and donned the famous green and yellow shirt which had been pulled on by so many other talented footballers. The team sponsored by Unika, kicked off in the Northern Alliance League in August 2007 using a fair proportion of the under 19's and under 17's players in the squad.
In a season which was always going to have a steep learning curve the team performed well, but all too often they would give last minute goals away. This lack of concentration at the end of the game cost the team dearly in the long run and they finished their inaugural season in seventh place. The organisation of the senior set up had grown stronger throughout the season with the small but totally dedicated committee of Vince Carrick, Tim Hutchinson and Michael McGill ensuring that the start of the 2008/9 season would see the team start with a stronger financial base. UNIKA headed by Paul Rogers were more than willing to be the team's main sponsors for the second successive year. Lift- Rite Engineering Services Limited and its sister company Mech-Rite Engineering Services Limited also came in to sponsor the team.
On the 26th June 2008 the Senior team headed off to Rogatz in Germany to take part in a centenary competition hosted by SV Concordia, with the team's greatest supporter Bob Corkhill heading the 26 strong party of players and officials to the event. The team left Wallsend Boys' Club in two mini buses and took the ferry from North Shields to Holland and then drove 350 miles to Rogatz in Germany. The Wallsend team went on to win the competition beating hosts SV Concordia in the final 6-2. One of the youngest players in the team Stephen Forster scored four goals against the host team with Tony Stevenson and Dean Wood putting away the other two goals. Stephen Forster had also scored four in the previous game making this a memorable trip for him.
The team were treated superbly by their hosts with accommodation and meals provided. A huge marquee was erected next to the pitches where bands and discos played and tasty hot buffets were laid on. The prize for winning the centenary competition was a huge gold cup which the team kept. Bob Corkhill who had an association with SV Concordia going back over fifty-six years, to when he worked as a stone mason restoring churches in Germany and being involved with the local football team , was presented with a silver pin of honour and a framed certificate in appreciation by the Burgmeister.
The Concordia president and close friend Rolf Steffens gave a speech and Bob replied in German, he then received a standing ovation from the large crowd. The local paper published an article on the centenary competition stating that "Rogatz were outplayed by the English opposition in the final. The team from Wallsend Seniors played technical and strong football, with mostly young players in the team, they played altogether a very sound and impressive display of football. "