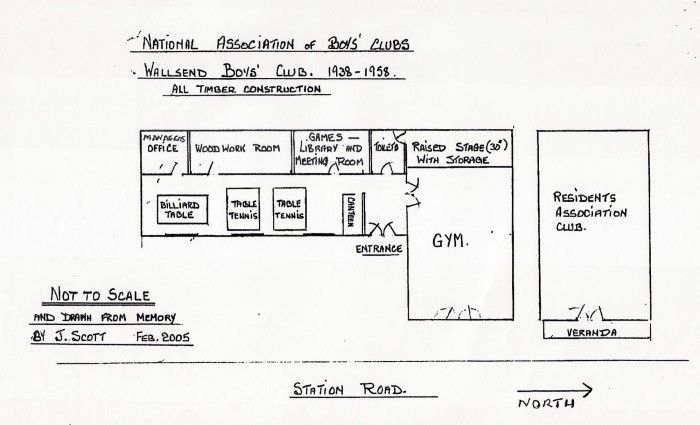 The birth of Wallsend Boys' Club
The official history of Wallsend Boys' Club starts in the years of the Great Depression in Wallsend. Like many areas of the country, Wallsend had had rough times in the twenty years after World War I ended. The 1920s had seen the slow collapse of old industries like coal mining and shipbuilding, and of course there had been industrial unrest with the General Strike taking place in 1926.
This situation wasn't unique to Wallsend of course, so in the mid-1930s the government started to identify areas where they feared high unemployment rates were having an adverse effect on young men, with the intention of supporting the building of Boys' Clubs to provide a focus for the young.Wallsend was one of the places to benefit from this scheme.
The idea was that if local benefactors would contribute, the cost of the actual labour would be covered by a grant from the government to the local Ministry of Labour Department who would supervise the project.The upshot of these circumstances was that in 1938 building began on a plot of land onStation Roadto the north of the centre of Wallsend.
The land in question was next to the High Farm Residents Association hut, just opposite the end of Prince Road, and had been used by them to erect a large marquee for their annual flower and vegetable show.What was being built there in 1938 was an L shaped wooden hut which was to be the home of the "official" Wallsend Boys' Club, affiliated to the National Association of Boys' Clubs.
The firm of Swan Hunter were happy to be the main benefactor of the club. Their support was personified by one of the Directors, and grandson of the founder of the firm, Sheriton C. Swan, who became president of the new Boys' Club. The Council had donated the plot of land to the Boys Club for a peppercorn rent.
All the materials were provided from the shipyard, which also supplied skilled workers where necessary to finish off the building work. The bulk of the actual labour on the building came from the unemployed however, who were paid through the government grant with meals and clothing.
Within a couple of months of starting, the building was up and ready, and very quickly being used for a whole range of activities. In total it had cost £1297.10s.0d to build and equip, with £113.12s.0d of that going to feed and clothe the unemployed labourers.