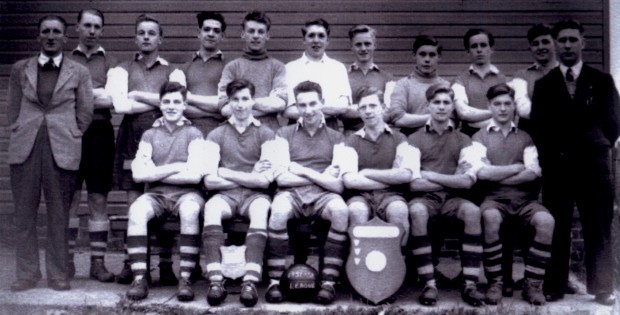 The early days, Boxing took center stage
Although Wallsend Boys' club is now associated so strongly with football, it is clear that the club begun in 1938, had a very wide range of activities. These took place under the leadership of Ernest "Sandy" Laws who was club leader from 1938 to 1952. Founder member Jimmy McBlain recalls that in 1938 subscription fees for the new Wallsend Boys' Club was 1d (one old penny).
When war came in September 1939 the Boys' club continued to meet, undoubtedly providing some much needed light relief for those involved with it, although inevitably being touched with tragedy at times when members became war casualties.
Jack Carruthers was one of the founder members, joining the club in 1938, and he remembers being active in the club's first football and boxing teams. The boxers were coached by Laurence "Skipper" Teasdale and by Joe Bird. In the early years of the club the boxing ring was marked out on the floor, but as boxing grew in stature a proper raised ring was often borrowed from Vaux breweries of Sunderland. "Golden Gloves" competitions were held at the Ritz Cinema on Wallsend High Street to help raise funds for the Boys' Club.
The event would be held over a period of six days, with one bout held each day immediately before the film show. Inter-youth competitions were also held at St James' Hall in Newcastle, with Wallsend Boys' Club and Grainger Park Boys' Club the top teams in the competition.
On Wednesday January 21st 1942 Wallsend Boys' Club hosted the preliminary Northumberland County Boxing Tournament, with the admission prices being 1/6 for non-members with club members being admitted for half price.
Bill Watson was another founder member from 1938 whose main activity at the club was boxing. He recalls Skipper Teasdale as being a top boxing coach who coached at other clubs as well as Wallsend, including All Saints Youth Club based under Byker Bridge and Willington Quay Boys' club. He also ran the boxing club at Grainger Park in Newcastle, which is still a centre for boxing on Tyneside.
One of the boxers at the boys' club, George Wells, later turned professional. Another club member who turned professional was heavyweight Dave Redhead, whom every boy at the club tried to avoid boxing because of his "killer" punch. Apart from boxing, in 1941 wrestling was introduced to the club when professional wrestler "Dirty" Jack Smith, from St James' Hall, came once a week to train the members in unarmed combat.