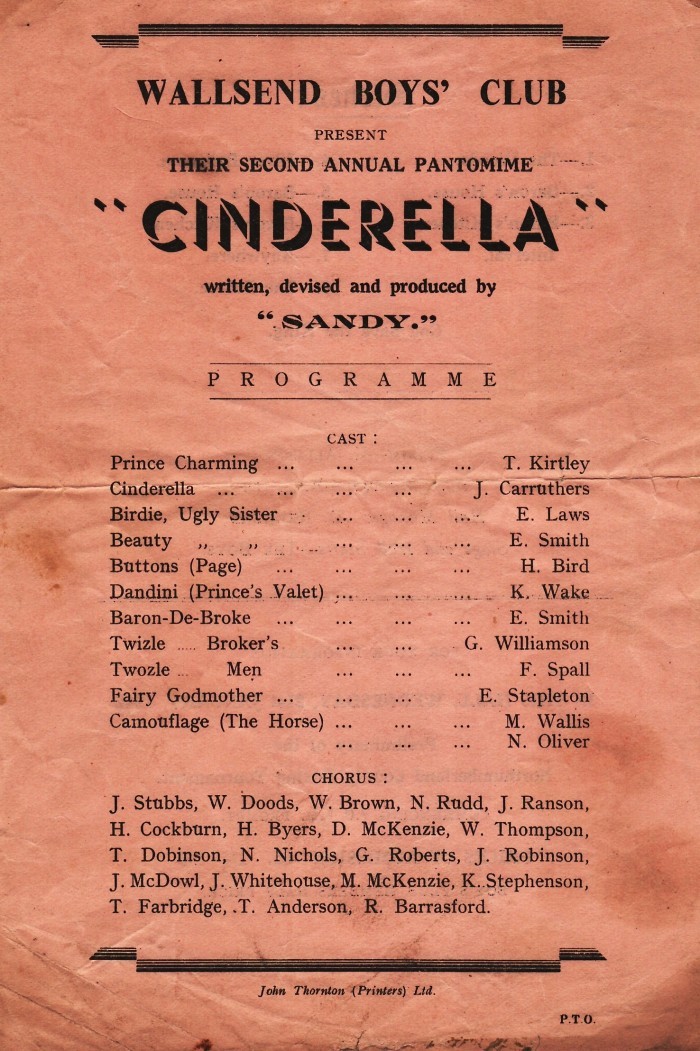 The first Pantomime's performed at Wallsend Boys' Club.
The first pantomime produced and performed at the club was "Robin Hood" in December 1939. As with the subsequent shows, Sandy Laws was the writer, producer, and director, and also played a leading role, invariably the Dame. About 30 of the members took part in that first show, and of course, all the female roles were played by boys! A tradition going back to Shakespeare's time! Approximately thirty boys were in the cast.
It would appear that the pantomimes became an almost annual event each December or January, with records remaining of 11 up to 1950. They included Cinderella in 1941, Babes in the Wood in 1942, Robinson Crusoe in 1943, Jack and the Beanstalk in 1944, and Little Red Riding Hood in 1945.
In the years just after the war ended they continued until 1950, with Dick Whittington in 1949 and, finally, Mother Goose.
These were very professional affairs and they played to full houses every night for a week. (The auditorium held about 200 people in the audience). Fred Tate remembers Jack Carruthers as being one of the star turns. (He was Maid Marion in the 1939 show.) Jack could tap dance and was a natural comedian. Tom Kirtley often took the role of the leading man, and was an excellent singer. Fred himself took part in the shows, and other regulars included Jimmy McBlain, Jimmy Swan, George Charlton, Hughie Cockburn and "Minger" Wallace, Joe Dyce and Ronnie (Pick) Nichols.
Apart from performing in the shows, club members helped out in a variety of back stage capacities. Jimmy Robson, who was employed by Swan Hunter, did the lighting for some of the shows. Ray Oliver was the stage manager for some shows, and Tommy Fairbridge was responsible for the scenery and also sometimes acted as House Manager during the performance week.
The second pantomime, Cinderella, which was performed in 1941, the part of Buttons was taken by a young RAF volunteer reservist called Henry Bird.
Some of the cast of Cinderella recall that as Jack Carruthers came on stage in the title role, (attempting to look as feminine as possible), one bright spark in the audience shouted: "You look more like Mae West than Cinderella!"
In that same year of 1941 Teddy Briggs became assistant manager of Wallsend Boys' Club.