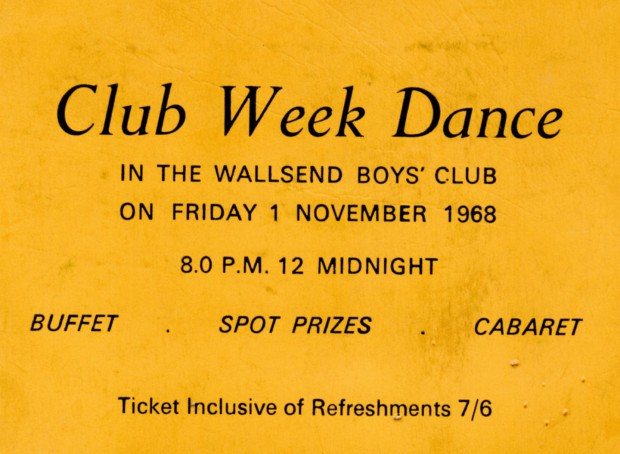 The need to raise money continues
It seemed as the years went on that the two themes of footballing fame and the need to raise money to keep the club going were constant features of club life. In November 1968, in an effort to attract more young people into the club, one of the workshops on the premises was turned into a 'discotheque' and a Club Week Dance was held with "soft lights and sweet music" to quote the local paper. This was from 8pm until midnight and there was a buffet, spot prizes and a cabaret. The tickets cost 7/6 (37.5 pence today) and this included refreshments.
The Wallsend News reported the event as follows:
When boy wants to meet girl. Soft lights and sweet music, hardly what you would expect to find in a boys' club, but this is what Wallsend Boys' Club had in mind. The idea was to let the local girls come in from the cold. A large room that was being used as a workshop was to be turned into a discothèque, with soft ultra violet lights and music to which members could bring their girlfriends.
"Since the new club opened there have been several complaints from various quarters that while things were looking up for the boys there were precious little locally for the girls" said David Beardall, the Club Leader. "The Club Committee, the Management Committee and I agree the complaints were justified, so we decided to give things a trial".
"When we get the room ready we will allow the girls in two nights a week, and if the venture is a success they will probably be admitted to full membership". The name of the club however would still remain Wallsend Boys' Club added Mr Beardall. As a sideline in his club leadership Dave Beardall hoped to be able to help the local Youth Employment Officer with information on careers for members.
Appealing for public support for the club Dave said that during the time that he had worked there he felt there were many people in the town who were interested in youth work but were rather shy about coming forward to help. "They seem to think that a full-time leader can achieve everything, this is far from the case. I need all the help possible from parents and friends."