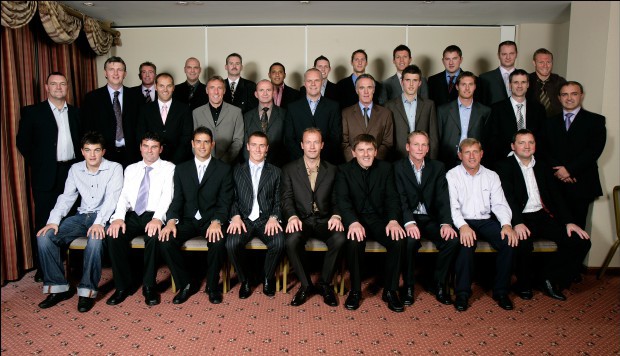 Wallsend Boys' Club's 40th Anniversary
After months of planning and preparation, October 6th 2005 saw Wallsend Boys' Club celebrate the 40th anniversary of the 'new club' opening for business. And what a celebration it was! Millions of pounds worth of footballing talent crammed into the Marriott Gosforth Park Hotel to pay tribute to their roots at the club.
Newcastle United skipper Alan Shearer and Peter Beardsley headed the sparkling guest list but there were plenty more of the game's stars in attendance during this latest chapter of one football's amazing success stories. 'Toon' players Lee Clark and Robbie Elliott were joined by former United team-mates Steve Watson, and Celtic favourite Alan Thompson.
However the list did not end there with Tottenham Hotspur and England's Michael Carrick chauffeured up to Tyneside from North London to meet up with old friends and colleagues. Michael said, "I had a good night, it was great to come back and say thank you to people. Wallsend was where it all started for me and I will always be grateful to everybody at the club who helped give me a start in the game". Tony Sealy, ex-QPR, travelled from Hong Kong to be here. Also on show were another 23 first team professional footballers: – Paul Baker, Southampton, Steve Baker, Southampton, Ian Bogie, Newcastle United, Phil Cavener, Burnley, Tony Dinning, Newcastle United, Chris Hedworth, Newcastle United, Russell Irving, Ipswich Town, Gary Leonard, West Bromwich Albion, Paul Malcolm, Newcastle United, Kevin McDonald, Hibernian, Marc Nash, Hartlepool United, Phil Ray, Burnley, David Robinson, Newcastle United, Geoff smith, Burnley, Eric Steel, Newcastle United, Paul Stephenson, Newcastle United, Mick Tait, Portsmouth, Jeff Tate, Burnley, Barrie Wardrobe, Sunderland, Mick Wardrobe, Burnley, Ian Watson, Sunderland, John Watson, Newcastle United and Jeff Wrightson, Newcastle United.
Barry Hindson of BBC radio Newcastle, said he was fortunate to be a guest at the social event of the week, which celebrated forty years of Wallsend Boys' Club. A veritable host of footballing talent, which served its formative years at the Station Road club, were in attendance, as well as good friends including Stuart Leason from the NFA, the evergreen and magnificent Jack Hixon, and the manager of Bedlington Terriers, Keith Perry.
With respect to those fine gentlemen though, this was Wallsend Boys Club's night in every sense and when Peter Kirkley introduced the former club members, what a roll of honour it was.