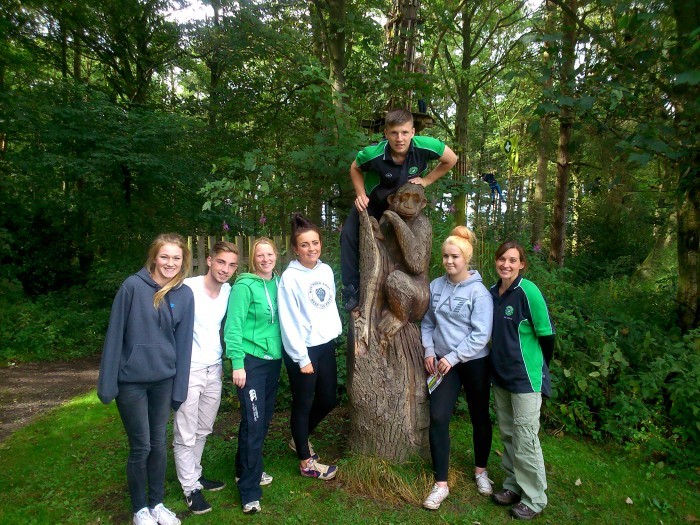 A fantastic and thrilling day out was had by all who went on Friday 29th August to Matfen Hall. Once through the safety talk our group of monkeys took to the tree tops and swung from branch to branch albeit yelling and screaming a bit in the process! They negotiated ladders, pullies, Tarzan swings and zip wires and used every muscle in their bodies to pull themselves along the tree line. The course consisted of five levels, one being the smallest and five the largest and most testing.
Starting off on level one everyone was fine, heading across on level 2 however Katie had her doubts about the Tarzan swing but after a little debate managed to plunge across and catch the net on the other side! Three of the team all ended up scruffy down there backs after landing on the wood chip at the bottom of the zip lines on their backsides much to everyone else's amusement.
Level four and five started to test everyone's commitment and different options to negotiate the course were taken by various people. However everyone jumped off the big Tarzan swing and completed the long zip wire on level 5 and all had smiling faces when they had finished. We now hope to arrange a trip over to the lakes in the near future to do the tree line tandem zip wires were the aim is to race to the bottom in pairs.