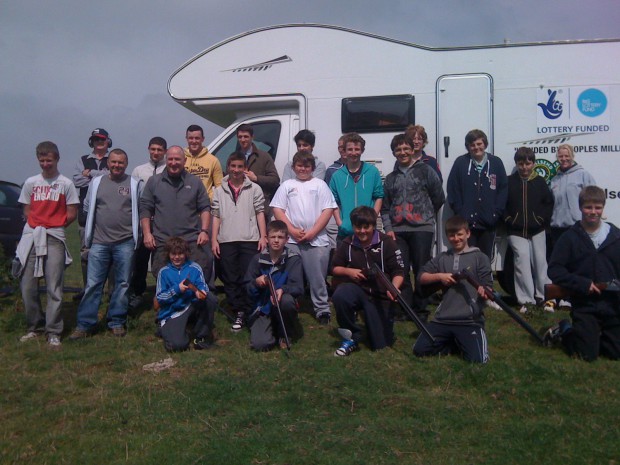 Early Wednesday morning we were greeted by our four eager participants who had never tried this activity before and were both excited and keen to get their shooting experience underway.
We travelled up in the Boyza Bus and met the rest of the young people from different Youth organisations at the Northumberland Arms in Felton, our meeting point for the day. Before we could set off to the field that would serve as our shooting ground; we were handed our ear plugs and the instructors briefed the group on health and safety and a few ground-rules regarding the handling and use of Shotguns.
Always a popular event, this year there were 19 young people and 12 support staff in total representing various clubs/organisations from across the NCYP network.
After splitting into three smaller groups we made our way to the field, the instructors having previously set up the 3 clay traps all set up at different angels to pose a variety of dirrerent shooting experiences these challenging targets simulated a variety of quarry such as driven pheasant, grouse and walked up partridge.
Each group rotated round the traps with their instructor giving participants one-to-one coaching, this gave them the opportunity to get used to handling the guns and to shoot at the different targets, with expert tips on how to improve their ability to hit the clays.
Once they had finished their practice run a mini competition was announced this time the groups went round the traps again but the pressure was on, with their scores counted, they competed against the whole group to see who would come out as top shots to win one of three trophies up for grabs.
Our hot shots proved to be good shots with Andrew Hodgson making it through to a final shoot out between the top shots, he ended up with a very respectable 4th place with another of our young people James Roy only 2 shots behind him.
All our young people enjoyed the experience and said they would love to go again next year.