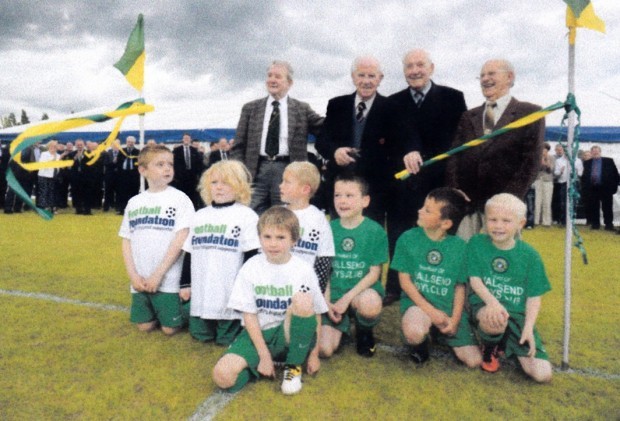 Opening of Wallsend Boys' Club's new pitches
On Friday 24th June 2011 Wallsend Boys' Club held the official opening of their new pitches at Bigges Main. Having been based at Wallsend Sports Centre, Wallsend Rising Sun, Hadrian Park School, Western School,DSS Sports ground, Benfield School and St Peters Road over a period of 45 years Wallsend Boys' Club football section were finally moving into their own ground. Having taken three years to complete the project it was a momentous day in the long history of the club.
The great and the good of sport and politics met as 150 specially invited guests attended the occasion. Speeches were made by Dave McDermott, director of investment of the Football Foundation who said "On behalf of everyone at the football foundation, I would like to commend the many volunteers at Wallsend Boys' Club who have worked so tirelessly to make this fantastic new facility become a reality and indeed everyone that gives up their time to help run the club" "Wallsend Boys' Club epitomises the ethos of the foundation and its funding partners are trying to support, creating opportunities for boys and girls of all ages and abilities to enjoy playing our national game and purely for the love of it. However it also powerfully demonstrates how nurturing the games grass roots can deliver something truly special for football in this country. I look forward to see the club go from strength to strength now it has this excellent platform on which to build"
Peter Kirkley President of Wallsend Boys' Club said "The acquisition of our new facilities can now broaden our horizons. While still producing top flight players and we can also do more work with the street kids, girls, ladies and our ability team. Who knows what the future might bring us after what has been achieved since 1938". North Tyneside Council Chairman John Stirling, recalled how far community clubs have moved forward since he was a lad, kicking balls around back streets of North Tyneside. He congratulated the club on their huge efforts to achieve such a magnificent venue. Steve dale Chairman of Wallsend Boys' 'club said "This is a truly historic day for Wallsend Boys' Club and the club is immensely grateful to the numerous organisations and individuals, who have helped make this dream a reality.
The financial support from the Football Foundation and the FA has been crucial and recognises the value of the club's efforts in the past, particularly in helping produce so many talented footballers." "North Tyneside Council have also emphatically supported the club financially, especially in granting an 80 year lease on our 20 acre site at Bigges Main. We hope both organisations will feel they get full value for money from their respective investments in the future, as the club continues to produce talented footballers whilst also providing positive, healthy activities for the thousands of Tyneside youngsters who use our facilities every year" A huge marquee was erected for the opening ceremony, where a roast hogg meal was provide by the caterers, with a huge supply of "Pimms" to drink.
Four of the original founder members from 1938 performed the opening ceremony. Jack Carruthers, Fred Tate, Jimmy McBlain and Jack Scott, they stood in front of the tape and the other founder members decided that Jack Carruthers had to cut the tape, as he was the oldest of the four. Jack said "Why give me the scissors as I can not see the tape, I am going to have a cateract operation on Monday. The other founder members guided Jack's hand by saying "up a bit left a bit down a bit CUT" Everyone had a fantastic time with the day being rounded off with two exhibition matches on the new pitches The Wallsend Boys' Club under 8's played the first match followed by a game between ex Wallsend Boys' Club members against representative team managers.