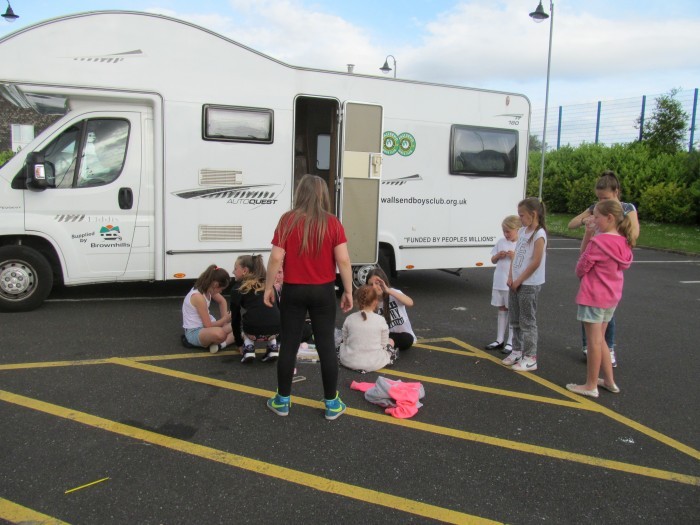 Operation Hotspot is a multi-agency approach to tackle litter, anti-social behaviour, fly-tipping and to provide free home fire safety checks. This is also an opportunity to engage with residents to give reassurance and assist in developing community pride. These areas are pre-planned litter, fire and anti-social behaviour hot spots. This campaign was delivered over a seven day period to allow partners to dip in and dip out as resources allow. Schools also supported the event by holding litter picks to coincide with Operation Hotspot.
Youth work was provided by Wallsend Boys Club, two sessions from 6pm to 8pm on 17th June and 19th June. Our Boyza bus was out again with its staff and volunteers to provide a wide range of activities as part of the joint project. Our Youth Provision provided some good old family activities, the girls loved doing the nail art and art crafts, while both boys and girls enjoyed boxercise and a good game of five a-side on the local pitches. This was a very successful two night event which the young people really enjoyed the boys especially enjoyed the football, and the girls getting all sorts of colours painted on them, there were so many girls wanting to participate, that we even made use of the car park space available. The events were attended by 61 young people. Feedback from young people who attended "We attended this is the best thing ever to have happened in Longbenton."
This event worked well with all partners who took part had a positive experience. As recourses from all agencies are under pressure, this approach provided all agencies with the opportunity to work together to improve an area. Many of the partners who took part have asked when the next event will be. This will be arranged soon with the intention of inviting more customers.