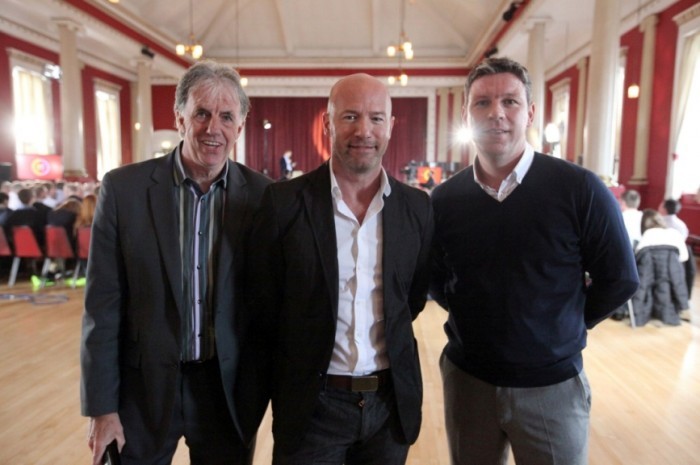 On Saturday 5th April 2014 the B B C lunch time programme Football Focus came to the Memorial Hall Wallsend to host a live programme on Wallsend Boys' Club. The programme lasting 50 minutes, was presented by Dan Walker with Alan Shearer, Alan Thompson and Mark Lawrenson on the panel. A specially invited audience of 200 people were in the Memorial Hall for the show, the front two rows were young Wallsend Boys' Club player's, who looked immaculate in their white dress shirts and Boys' Club ties. Two of the founder members from 1938 Jack Carruthers and Bob Corkhill were also in the audience.
Recording for the opening sequence for the show took place on Tuesday 1st April when Dan travelled up to Wallsend to interview Vince Carrick, Michael McGill, Peter Kirkley and Sid Sharp at the club's Bigges Main base. Pre recorded interviews were also shown of Michael Carrick, Steve Bruce, Alan Pardew and Harry Rednap.
Michael and Steve spoke fondly of their time at Wallsend Boys' Club when they played 5-a-side and 11-a-side football. They both stated how the Boys' Club played such an important part in their youth.
The Wallsend Boys' Club over 40's team were presented with the league champions trophy they had won that morning by Alan Shearer. Vince Carrick was interviewed live following on from his son Michael's recorded interview.
The audience were invited to ask the panel questions. One young Boys' club player asked why Manchester United were so "rubbish" this season, which had the audience laughing.